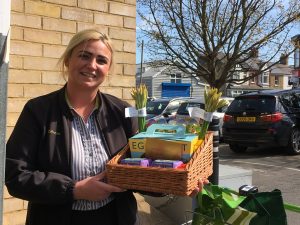 Waitrose, Hampton are continuing to support The League of Friends and have generously donated 10 Care Packs and an Easter Hamper for the nursing team at our much loved hospital.
These packs contained lots of lovely goodies including Bubble Bath, Shampoo, Hand Wipes, Soap, Tea, Porridge, Rice Pudding Pots, Jelly Pots, Sweets and Chocolates.
The Packs were shared out amongst the nursing team and they were all thrilled with the treats inside. It is not only the items that make a difference to the team, but the knowledge that they being thought of during this challenging and unique time.
It is wonderful to have the support of our local Waitrose, especially when our NHS nursing teams are under so much pressure and working really hard to provide the care needed for our community.
We know that the NHS including the team at Teddington Memorial Hospital will need the League's support during this crisis and afterwards as they recover from the huge efforts being made to save lives and keep us all safe. The League of Friends will do all we can to help and we can only do that with the support from our community and companies like Waitrose.
Thank you to Waitrose for all that you do to support The League of Friends and we look forward to a positive future after this is all over.
If you would like to support The League of Friends and the NHS staff at Teddington Memorial Hospital
Click on our 'Donate' Button Or Contact: info@friends-tmh.org.uk or Call: 020 8714 4074