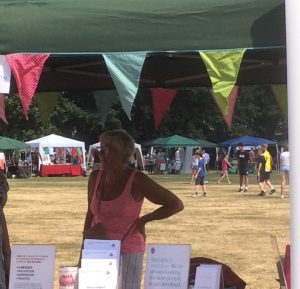 Eve joined The League of Friends about 25-30 years ago and started helping in The League's shop, then with her husband, took over the running of it on a voluntary basis for many years until it became too much and a paid Manager was employed. During this time Eve was also helping to organise the Jumble Sales and Fetes in the garden, which use to take place before the extension at the back of the hospital was built.
Eve also used to volunteer with the book sales in the main reception area on Saturdays, helped run a hospital car service, volunteered with our local box collecting, collected and banked money from our large collection boxes around the hospital and collected used stamps and foreign coins to sell to a dealer to raise extra funds. As well as all this, Eve also helped with publicity at fairs and fetes.
Eve is now volunteering in the hospital's Out Patients Department for the Retinal Screening Team and still helps on our stalls at spring and summer events.
The League are extremely grateful to Eve (and her husband) for their many years of dedication and support. Eve has made a huge contribution and helped to raise funds, making it possible for The League to provide many enhancements to both services and equipment at the hospital.
Thanks to Eve for everything she has done and does for The League, she is truly a star and that we cannot thank her enough.
If you would like to volunteer for The League of Friends or would like further details about our work please contact: info@friends-tmh.co.uk or call: 020 8714 4074.