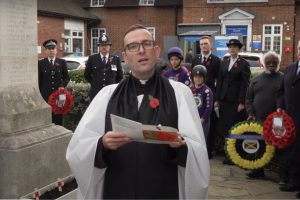 Due to the Covid-19 restrictions this year, the Remembrance Sunday Service outside Teddington Memorial Hospital was a pre-recorded service held on 1st November.
The League of Friends of Teddington Memorial Hospital, together with representatives from our local community, laid wreaths in remembrance to mark our respect for those who have lost their lives or have been affected by war.
Although a limited number of participants were able to attend, the service was still as poignant as ever.
Reverend Joe Moffatt, Vicar of St Mary with St Alban, Teddington and Chaplain of the Royal British Legion, led the service with Churches Together in Teddington.
A reading was given by Lieutenant Emily Watson from the Salvation Army Teddington Corp, an Exhortation and Kohima Prayer by Brian Wild, President of the Royal British Legion, Teddington Branch. Prayers by Reverend David Innes, Minister of Teddington Methodist Church and an Act of Commitment by Reverend Ed Kendall, Vicar of St Michael's Fulwell.
If you would like to see the service please use the link below:
https://www.youtube.com/watch?v=Mm9tiQxIpCo
It can also be found by searching 'Teddington St Mary' in YouTube.