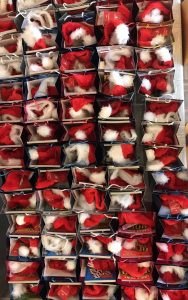 The League was pleased to be able to give all patients and staff on duty over the Christmas period, Christmas Cards and Gift Bags containing useful, fun items.
Both the patients and staff really appreciated this festive touch and it is a small way in which we can shows that they are in our thoughts and cared about.
It has been such a challenging year for us all and to be able to put a smile on the patients and the care team's faces was wonderful.
Thank you to all our supporters for helping to fund these gifts.
Your support really makes a difference and is truly valued.