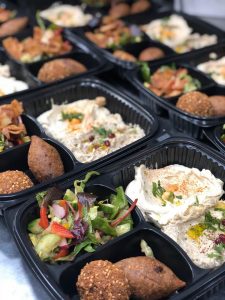 The League of Friends would like to say a huge thank you to our local community for supporting us and the funding of our recent project to provide quality meals to the NHS teams at Teddington Memorial Hospital and Whitton Corner Health Clinic.
With our communities continued help and support, The League were particularly pleased to be able to fund and coordinate 5619 meals for the NHS staff over nine weeks, at a crucial time, when the nursing teams were working so hard to care for patients.
We were also pleased to help, at a time of difficulty and uncertainty, our local businesses in Teddington, Ruba Restaurant, Sidra Restaurant and The Abercorn Arms, who all provided the food.
And as part of this project, The League also delivered VE Day afternoon teas to staff at Teddington Memorial Hospital, provided by Café Verde in Teddington.
The total cost of this project was £28,095.
All of the health teams were delighted to receive the good quality, well prepared meals and afternoon teas and this support really gave them a great boost and shows just how much our community care.
Thank You.
If you would like to support The League of Friends please visit our JustGiving page: https://www.justgiving.com/campaign/TMHheroes
Or to find out more about our work and current projects please contact:                                                       info@friends-tmh.co.uk or call: 020 8714 4074.