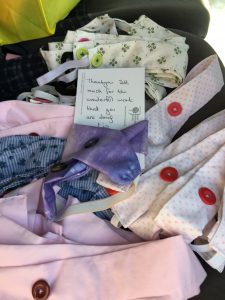 This month we would like to say a special thank you to all our dedicated volunteers who have shown amazing support for the League and the nursing teams at Teddington Memorial Hospital, by making headbands for masks, face protection visors, scrub bags and thank you cards.
As you can imagine the nursing teams at Teddington Memorial Hospital have been under so much pressure caring for patients during this pandemic and the support our volunteers have shown by making this equipment has made a huge difference.
Our volunteers and their friends and family have been busy sewing and produced over 500 headbands for the nursing team to wear. The headbands have a button on either side for the elastic from face masks to be hook around, preventing the nurses getting sore ears from the elastic.  Plus 70-80 protective face visors have been made and several scrubs bags too. Many volunteers also hand wrote thank you cards for the team and one volunteer even made a knitted doll of a nurse to show her support.
We are so proud of all our volunteers for caring about their community and wishing to do something to support our hard working nursing staff at Teddington Memorial Hospital.
This was a great team effort and there are too many people to name here but we thank you all.
If you would like to support The League of Friends or find out more about our current activities please contact: info@friends-tmh.co.uk or call 020 8714 4074.