The Friends of Teddington Memorial hospital runs the hospital shop to benefit patients, staff and visitors. The shop also contributes much-needed funds to our projects to enhance hospital provision.
What we sell
The hospital shop sells various items, including sandwiches, healthy snacks and drinks, toys, and stationery. We also sell our beautiful Christmas cards and other Yuletide items during the festive season.
Here's a list of some of the excellent merchandise for sale. Do send us your ideas for other items you'd like to see in the shop.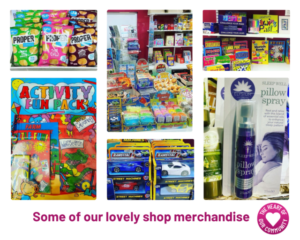 Activity fun packs
Bananas and other fruit
Cavan Bakery sandwiches
Christmas cards and hats (in the festive season)
Crisps and snacks
Drinks
Healthy snacks and crisps
Retro sweets
The History of Teddington Memorial booklet (only 50p)
Toiletries
Tote bags
Toys
Umbrellas
500 Recipes and Household Hints Tested and Found Good. A reprinted fundraiser recipe book from the late 1930s and an excellent glimpse into our culinary social history.
Post-Covid, the new shop frontage has a long counter with stock visible through a clear Perspex screen fitted from the ceiling to the counter. This enables safe shopping for our customers. All our volunteers have been provided hand sanitiser to use during their shifts, and all have been trained in Health and Safety during Covid19.
Why have a hospital shop?
The hospital shop is the public face of The Friends. It provides a focal point within the hospital and contributes to raising funds for The Friends projects to support the hospital.
How is it run?
The shop is managed by our wonderful Shop Manager, Philippa and staffed entirely by our volunteers who give up their time to support us.
We are always keen for new volunteers to join us. If you would like to be part of our friendly team, learn new skills and help by providing a vital service for patients and visitors, please contact: info@friends-tmh.co.uk or call 020 8714 4074.
Come along and see our shop, make a purchase and support the Friend's work.Support your local community hospital.
Thank you.