Munira Wilson, MP for Twickenham, opened a second paediatric audiology screening room at Teddington Memorial Hospital on 13 June 2022. More local children with hearing problems will now get the care they need quickly.
The ribbon-cutting ceremony marked the official opening of a new children's hearing screening room at Teddington Memorial Hospital, run by Hounslow and Richmond Community Healthcare (HRCH).
Audiologists from the hospital joined local MP Munira Wilson at the opening ceremony, along with HRCH Chief Executive Jo Farrar and TMH League of Friends Chairman Reverend Simon Douglas Lane.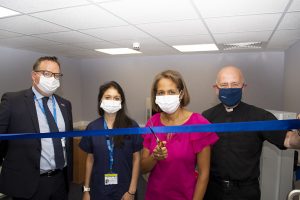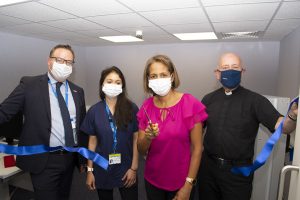 £67,000 paediatric audiology funding from the League
Reverend Simon Douglas Lane, commented: "Heartfelt thanks go to our many League of Friends supporters in the community who, by their efforts, have allowed us to fund this project. It is so important for the League to continue its fundraising efforts in the community, so we can continue to fund improvements to our beloved hospital."
Staff are delighted with the new room, which has been refurbished to an extremely high standard, with funding of £67,000 from the League of Friends.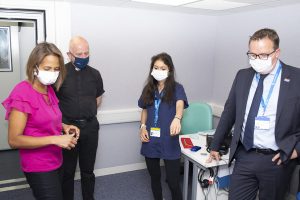 More local children will get audiology care quickly
The new room means audiologists can now run two clinics alongside each other for children under 3 years old and over 3 years old.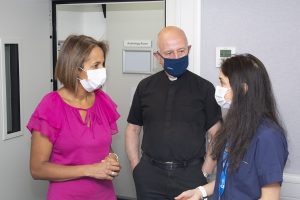 Good hearing is critical for a child's comprehension and speech development, but hearing problems in young children are not always obvious. The audiology service screens children early on in life, to identify hearing difficulties and address them as soon as possible.
HRCH CEO Jo Farrar said: "This is a fantastic extension to the Richmond audiology service and means we can help about 800 more children a year get the support they need close to home. We are extremely grateful for the continuing support we receive from the League of Friends, who made this possible."
Staff and parents delighted with audiology facilities and convenience
The service offers local parents the convenience of minimal travel and waiting times, their children are seen in comfortable, reassuring surroundings and staff now have all the facilities they need to deliver excellent care.
The new, purpose-built, well-equipped, soundproof screening room meets national standards on noise level reduction. As a result, paediatric audiologists will be able to screen nearly 800 more patients a year at the hospital.
The service can also operate five days a week, which means it can see a greater volume of patients. This means new referrals will be seen more quickly, significantly reducing the number of young patients on the waiting list.
High-quality healthcare service accreditation
The service is now working towards accreditation under the new improved version 2 of the Improving Quality in Physiological Diagnostic Services (IQIPS) Standard. IQIPS is a professional assessment and accreditation scheme which recognises healthcare organisations that ensure patients receive consistently high-quality services, tests, examinations and procedures, delivered by competent staff working in safe environments.
How you can help
There are many ways you can get involved with the LOF and help to fund vital projects like the paediatric audiology screening room.
One of the easiest ways is to simply donate using the Donate button on this page. Or when you're visiting the hospital simply tap the contactless donation point to give a £3 donation or drop your coins or notes in the slot.
Every donation, from a handful of change to a substantial legacy, is much appreciated by the LOF, TMH staff and your community.
To find out more click Get involved to join, donate or volunteer.