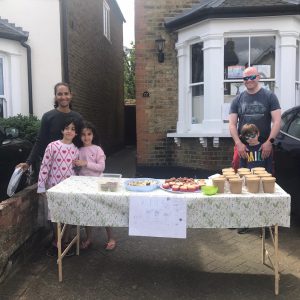 The League were thrilled to receive a donation of £150 in aid of Teddington Memorial Hospital, raised from a socially distant Cup Cake and Dal Sale organised on 23rd May by local residents, Nisha Cunnane and her family, Eoin, Ariya and Saoirse, together with their neighbours Dave, Lizzy, Toby and Rupert.
Nisha said "It was a great success and we raised £150 for the hospital. I felt it was a real community effort with our road, East Road in Kingston, and the roads around really supported us by buying dals and cupcakes".
This was such a thoughtful idea and a great example of how our community are pulling together in support of our hard working and dedicated nursing teams at Teddington Memorial Hospital during this difficult and challenging time.
Thank you to Nisha and all of her family, her neighbours and all those who supported the League by buying cakes and dal at the sale.
We truly value our communities support.
Thank You.
If you would like to organise an event on behalf of The League of Friends of Teddington Memorial Hospital or find our more about our work please contact: info@friends-tmh.co.uk  or call 020 8714 4074.