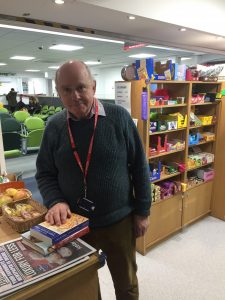 Kevin Carter has been volunteering in The League's shop in Teddington Memorial Hospital for over five years now – in fact ever since he retired – working under three managers and within both the original and the current premises.
Almost all of his working life was spent in international sales, the first half in the construction equipment and printing industries and then in international development, so retailing is something very different.
Much as he enjoyed his career years, especially the travelling to exotic places, Kevin says he would hate to go back to paid employment – retirement and the freedom it brings is so much better.
When he's not in the shop restocking shelves, chatting to customers or just watching the world go by, Kevin can mostly be found at his other volunteer venues – a cancer support centre in Battersea and Strawberry Hill House where he's one of the gardeners.
Kevin says the old retirement joke about 'how did I ever find time to go to work….?' is so true. But it's good to be busy.
If you feel you could be part of our army of volunteers for The League of Friends please contact:             info@friends-tmh.org.uk or call: 020 8714 4074.