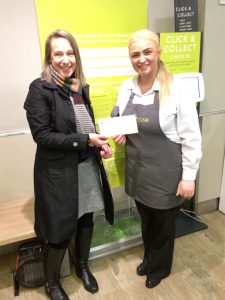 The League would like to thank Waitrose in Hampton for their generous donation of £170.00, which was raised from their Community Matters Scheme. It is an amazing amount and we were thrilled to be selected as one of Waitrose chosen charities and to receive such support from their store and the local community was wonderful.
The League has raised over £8 million to date and has funded many enhancements to the hospital and its equipment since our inception in 1954 and we continue to do so.
This donation will be used towards our current and future projects at the hospital and without such community support, we would not have been able to achieve all that we have.
Many thanks to Waitrose, their customers and staff, for supporting The League of Friends and helping to keep Teddington Memorial Hospital at the heart of our community.
If you would like to support The League of Friends contact: info@friends-tmh.org.uk or call 07713 445162