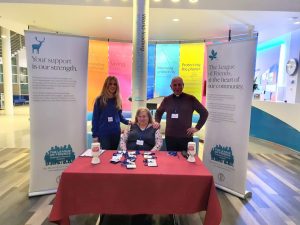 The League invited 100 guests to join in celebrating 65 years of supporting our local community hospital. The event took place at The National Physics Laboratory in Hampton Road, Teddington on 21st November 2019, with Canapés and drinks.
The event was a great success and many of the local community attended to celebrate with us. The League were delighted to inform our supporters of the achievements that have been made and of the recent projects at the hospital which we have funded to further enhance the services and equipment available for patients.
To date the League has raised over £8 million and funded many enhancements at the hospital over the years, all made possible by the continued support which we receive from our caring community and through generous donations. This really shows how valued our hospital is.
Thank you to all who attended our celebrations, to the National Physics Laboratory for allowing us to hold our event on their premises, with a special thank you to Johnathan for his support on the evening, to our volunteers who make a huge contribution and to all of our wonderful community for truly valuing our local hospital.
We look forward to many more years of supporting Teddington Memorial Hospital.