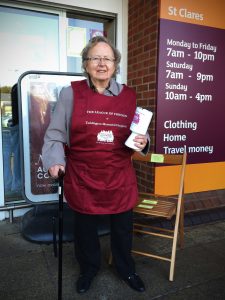 The League has many ways in which we raise funds to enhance the services and equipment at Teddington Memorial Hospital and one of these is by collecting donations from generous shoppers at various locations around the borough.
We will be collecting again this year at Sainsbury's, St Clares, Hampton and Tesco, Broad Street, Teddington. If you are shopping at one of these stores, come along and show your support. We would love to meet more of our supporters and tell you about our recent achievements and current projects.
DATES AND LOCATIONS:
Friday, 8th September – Sainsbury's
Friday, 6th October – Sainsbury's
Saturday, 7th October – Tesco
Sunday, 8th October – Tesco
We look forward to seeing you.