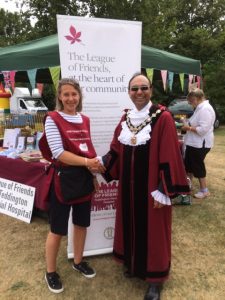 Such a wonderful Saturday at this year's St Margarets Fair, the weather was fabulous and the event had a huge turnout. There was beautiful sunshine, some great music performed by local groups, lots of stalls and fun events for all the family to enjoy.
The League's stall received lots of attention and people were very interested to hear of our work and current projects. We raised £64 from generous donations and the sale of donated items and gained some new supporters too. All in all a fabulous day and we even met the Deputy Mayor, Councillor Benedict Dias.
A huge "Thank You" to all of our supporters who showed such an interest in our work and the ways in which we enhance the hospital and to our valued team of dedicated volunteers, for giving up their spare time to help run our stall, your support is greatly appreciated. We look forward to attending again next year.