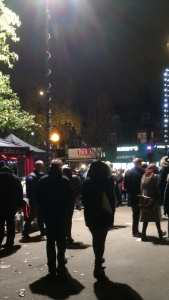 This year's Teddington Lights Up was a great evening and many local residents braved the cold weather and came along to enjoy the array of stalls and celebrations. All the local shops stayed open late and offered various Christmas treats and entertainment. Carols were sung by local schools and radio Jackie provided music and commentary for the evening.
The League had our stall again in the Cedar Road Car Park and received a huge amount of support, gaining new members and potential volunteers. We sold an array of Christmas items which we also sell in our shop, which helped us to raise £51.12. This type of festive community event is great to be involved with and enables the League to publicise our work and the current project which we are supporting at the hospital.
Thank you to all our volunteers for helping with our stall and to the organisers for another wonderful Lights Up. We look forward to next year.