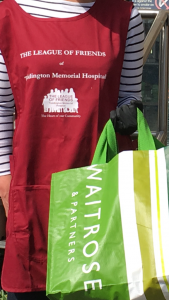 Waitrose has kindly donated more goody bags for our hard working, dedicated nursing team at Teddington Memorial Hospital. The bags contained lots of lovely treats for our nurses to pamper themselves with, which will truly make a difference.
Such support from local organisations and businesses is very much appreciated and will help keep moral going during these difficult months ahead, when the NHS nurses are doing such an amazing job of caring for our local community.
If you would like to offer support to The League of Friends and the nursing staff at Teddington Memorial Hospital please contact: info@friends-tmh.co.uk or call 020 8714 4074.