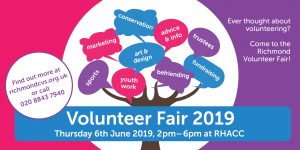 Come along to the Richmond Volunteer Fair on Thursday 6th June 2019 from 2pm – 6pm at Richmond and Hillcroft Adult and Community College and find out more about volunteering.
The League of Friends will be holding an information stall at this event to inform the community about our work at Teddington Memorial Hospital and the different volunteer roles available.
Volunteering for The League is a wonderful way to get involved in the community, meet new people and have fun, whilst raising awareness and funds for a worthy charity. Our volunteers not only find their roles rewarding, but also feel a great sense of community, benefiting hugely from being part of a team. Having regular contact with other people is important to them and a worthy volunteer role gives many of them great pride and the sense of belonging.
The League is always looking for volunteers to join and we provide full training and support to all.
This is a great event for finding out about what is going on in the local area and the different opportunities available. So come along and say hello to the volunteers on our stall.
For further details about this event or to discuss The League's available volunteer opportunities email: info@friends-tmh.org.uk or call 07713 445162.