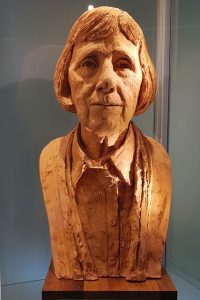 Stephen Swords, Chairman of Hounslow and Richmond Community Healthcare NHS Trust, invited local dignitaries, friends, supporters and staff of Teddington Memorial Hospital to a celebration for Pamela Bryant MBE, Chairman of The League of Friends, to commemorate Pamela's contribution to the hospital and the local community over the past 30 years.
The Celebration was held in the Pamela Bryant Day Room where Stephen Swords and Dr Julian Bradley, Park Road Surgery GP, paid tribute to Pamela's work and achievements over the years. Pamela has headed campaigns to raise more than £8 million to date for new buildings, equipment and enhancements to the services available at the hospital.
Toby Jessel, (Pictured below left with Stephen Swords) former Member of Parliament for Twickenham between 1970-1997, who showed tremendous support to the League in 1983 when the hospital was threatened with closure, unveiled a terracotta sculpture of Pamela created by local artist Avril Vellacott (Pictured below right with Pamela Bryant).
Pamela continues with her role of heading The League of Friends and spoke of the future,
"In a time of constant change to our NHS, the role of Teddington Memorial Hospital has a huge part to play in the future care of the 100,000 people who visit the hospital every year. The care and how it is delivered will undoubtedly change. But the hospital and its importance to this community will continue and the League of Friends will continue to be part of the way forward."
To quote Stephen Swords, Chairman of Hounslow and Richmond Community Healthcare NHS Trust, "Pamela's contribution over many years has been immense, from huge fundraising drives to leading on services delivered by The League of Friends, to heading the campaign to save the hospital in 1982/3".
"To put the campaign to save Teddington Memorial Hospital in context, when Ken Clarke published his recent biography he said he had closed 100 hospitals at that time and the local battle should be seen in that light".
"Pamela's place in the local community is unique and her instincts as to what is important to the hospital are very helpful to the Trust Board and Management Team".
The sculpture of Pamela, together with a plaque detailing her many years of support will be on permanent display in the Pamela Bryant Day Room at the hospital, as a continuous reminder of a truly inspiring lady who has dedicated her lifetime to the hospital and local community.