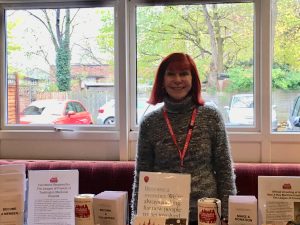 Teddington Pop Up Fair at Teddington Constitutional Club on Saturday 23rd November was a great success. This was the first Christmas Fair held here and there was over 30 stalls in attendance. There was hot food and mulled wine on offer, along with some wonderful festive music to get everyone in the mood for spending!
The League has a huge response to our stall, being the first that people saw as they entered the hall. We sold lots of Christmas items, gained some new supporters and many people made generous donations towards our future funding projects at the hospital, raising a total of £90.71.
We would like to thank all those who showed their support on the day, to our band of valued volunteers, who gave up their time to be involved helping on our stall and to the organisers of the event and Teddington Constitutional Club, for inviting us to take part.
We truly appreciate such community support.