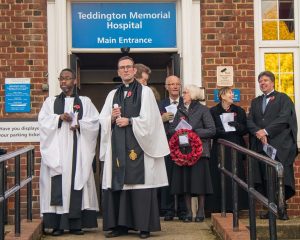 This year's Remembrance Sunday Service was as moving as always, with the Reverend Joe Moffatt from the Church of St Mary with St Alban leading the service, which is held at the front of the hospital. The Service was well attended by the local community and many local organisations paid tribute by laying wreaths for our fallen Hero's, who tragically lost their lives in the wars.
Pamela Bryant MBE, the League's Chairman laid a wreath of poppies at the Memorial on behalf of The League of Friends.
This service occurs every year and all of the community are welcome to attend.